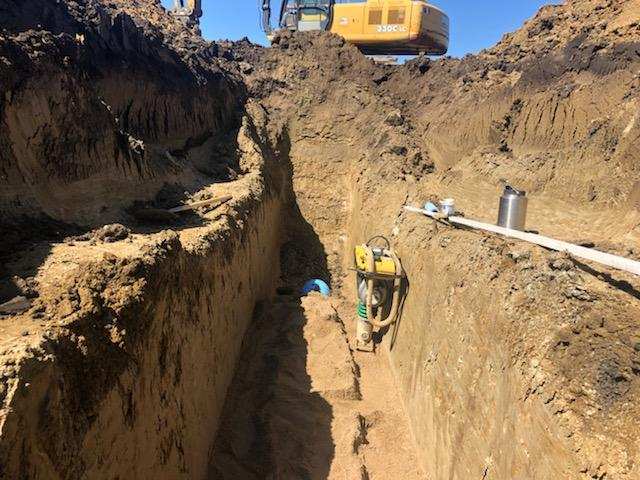 As you may know, K.A. Witt Construction is a seasoned specialist in the construction field.  K.A. Witt Construction is primarily known as a custom home builder, but our services have expanded over the years to include specialized earth moving operations such as site grading, utilities installation, and residential, commercial, industrial, and park development.  What we would like to share with you is the scope of this field and the various options one has for employment within it, and more specifically, at K.A Witt Construction.  Over the many decades we have been in this business, we have built up a handful of 'crews' with specific skill sets that form the backbone of our operations.  Our crews out in the field include skilled tradespeople specializing in framing, concrete, and excavation work.
In this post, we would like to focus on the currently available equipment operator position on our excavation crew and how one qualifies for this position.  Excavation is a broad term and our crew shoulders a wide array of responsibilities.  In home building alone, the earth moving operations include development of the residential lot, digging the basement and/or footings, connecting the utilities, backfilling, and grading the site when the construction operations are nearing completion.  Outside of home building, earth moving is required in nearly all projects K.A. Witt Construction undertakes.
Our equipment operators are integral in the completion of these projects.  They operate dozers, excavators, skid loaders, packers, graders, and scrapers daily through all phases of a project.   The equipment is large, expensive, and highly specialized, requiring the operator to be experienced in the construction field, be knowledgeable as to the complexities of the work they are performing and the equipment they are operating, and have an innate attention to detail.  Additionally, to understand a construction site and efficiently operate equipment, you must be able to read plans, understand onsite grade staking, understand the inner workings of the machines, and know how to perform routine maintenance on them.
The construction industry is very complex, precise, and regulated, so in-depth knowledge of industry is important to becoming a successful operator.  While this may sound daunting, the best way to gain experience as a newbie is to just show up and learn from your fellow (K.A. Witt Construction) employees experienced in the construction trade.  As a general laborer, the entry level position on our excavation crew, you are learning the skills from other laborers, operators, and foreman working in the field.  Asking questions, operating small equipment under the supervision of other employees, performing basic tasks that are important to all construction projects, and being observant of the processes and progression of projects will give you the knowledge you need to competently operate equipment and grow in your new found career.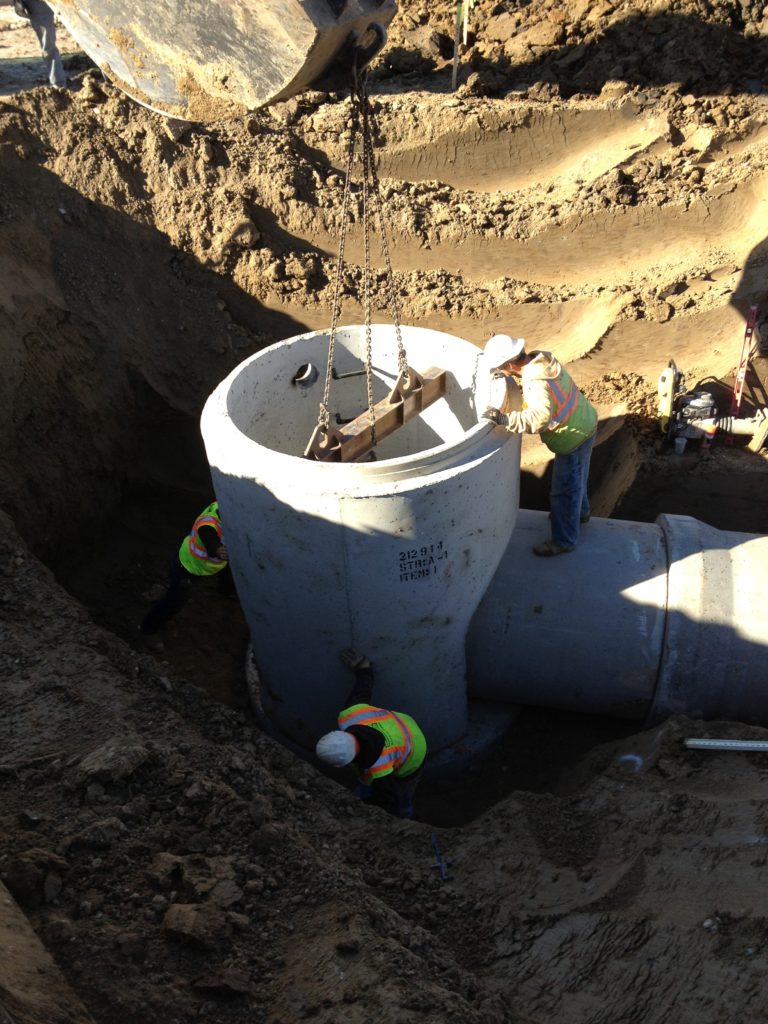 Another route would be through a construction program at an accredited educational institution.  One example would be a construction management program offering a two-year associates degree in construction management or project management.  These programs are often taught at trade schools such as Dakota County Technical College or Dunwoody College of Technology.  These programs are great for teaching you the basics of the construction industry, the practices used, and how to manage a project from start to finish.
While a construction management program lacks practical equipment operation experience, there are educational programs specifically designed to teach you how to operate the most common types of heavy equipment.  One example is the Associated Training Services' Heavy Equipment Operator Training program.  This program teaches you the basics of equipment operation and site reading by a combination of classroom training, simulated equipment operation, and in-seat equipment operation.  Additionally, Central Lakes College offers a similar but much more extensive program on Heavy Equipment Operation & Maintenance.
As you can see there are many avenues one can take to develop a career in the trades, and specifically as an equipment operator at K.A. Witt Construction.  If this position is something you or someone you know would be interested in or good at, we are always willing to discuss your options further, weighing out the pros and cons of each.  We have scholarship programs for those wanting to enroll in a technical school or training program, or perhaps your knowledge or skill set would be best put to use in the field right away with some on the job training and learning by doing.  A career in the trades can be very rewarding; working with your hands, problem solving on the job, not one work day being the same as the next, and all done in a growing sector of the economy right now.
The growth of the construction industry is most often tied to the growth of the economy, both regional and global.  When the economy is strong, people are more willing to spend their money on new homes and home remodels, businesses are more willing to spend their money on facility improvements and expansions, and governmental agencies are more willing to spend money on infrastructure projects such as park improvements and road reconstructions.  As you can imagine, this growth in the construction industry is also tied to job growth in construction trades.  The U.S. Bureau of Labor Statistics predicts a construction equipment operator job growth of 10% from 2018-2028, with 44,000 new jobs being added in that time.  They state the average wage as $22.59 per hour or $46,990 per year.
Dunwoody College of Technology Construction Management – https://dunwoody.edu/construction/construction-project-management/
Dakota County Technical College Construction Management – https://www.dctc.edu/academics/programs-majors/construction-manufacturing/construction-management/
ATS Heavy Equipment Operator Training –
https://www.operator-school.com/heavy_equipment_training.php
Central Lakes College Heavy Equipment Operation & Maintenance –
http://www.clcmn.edu/heavy-equipment-operations-maintenance-diploma-2/